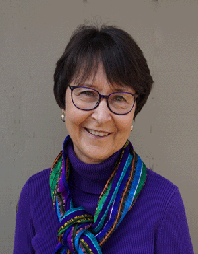 The path that led to my serving as a retreat leader and spiritual director has been long and winding. After spending my Junior year of college in Europe, I became involved in the Catholic Charismatic Renewal Movement when I returned to Michigan. These two experiences led to my lifelong interest in spirituality and an openness to other cultures.
My married life began soon after my husband Tony and I met while teaching in a Catholic high school. Once our four children were in school, my passion for teaching took me back to the classroom. Field trips were a core part of my curriculum since I feel that hands-on experiences are the best teacher. I took my Comparative Religions students to Hindu and Jewish temples, Gothic styled churches, and Islamic Mosques. I designed, organized, and led hundreds of my French students (and their families) on trips to France, England, the French Caribbean, and Quebec.
A deepening interest in my own spiritual life led me to transition from high school teacher to graduate student at Madonna University. Classes in spirituality, hospice and bereavement led to a Master's Degree in Pastoral Ministry. The following year, I spent two semesters training as a hospital chaplain and then completed a two-year internship in Spiritual Direction at the Manresa Jesuit Retreat House.
As a Retreat Leader, Spiritual Director, and volunteer chaplain at the Oakland County Jail my intention is always to help others discern God's Presence in their everyday lives and to help them experience a deeper sense of God's unconditional love.
Since August 2018, I've been working very slowly on a book on Intercessory Prayer and am very grateful to those who have read and commented on my early drafts.
Along with reading, taking walks, and spending time with friends, travel remains important to me. In 2010, I visited the Holy Land with my daughter, Laura. After driving hundreds of miles with road signs in Hebrew and Arabic and hiking the 40 miles between Nazareth and the Sea of Galilee in 95° weather, I am proud to say that my daughter and I remain best friends! In 2016, a trip with my husband to Rome and Poland was the start of a yearlong pilgrimage to 50 "Jubilee Year of Mercy Holy Doors" in Europe, Canada, and the U.S. In 2019, Tony and I were blessed to spend two weeks in Israel with a biblical study group led by Jeff Cavins. This past summer we celebrated our 50th wedding anniversary on a trip to Italy, Dubrovnik, and Corfu.
I enjoy spending time with our four children, their spouses, and our seven grandchildren.
EDUCATIONAL DEGREES
Master of Arts in Theology (currently enrolled), Sts. Cyril and Methodius Seminary, Orchard Lake, Michigan
Master of Arts in Pastoral Ministry (2011), Madonna University, Livonia, Michigan
Bachelor of Arts (1970), With Distinction, University of Michigan, Ann Arbor, Michigan Major: French, Minor: Social Studies
Diplôme d'Études Civilisation Française [Diploma in French Civilization Studies] (1969), Degré Supérieur [Highest Degree], Université de Paris, Sorbonne, Paris, France
ADDITIONAL EDUCATION
Vipassana (Insight) Meditation -- 11 day silent retreat, Brighton, MI (August 2013)
Internship in Spiritual Direction and Ignatian Spirituality, Manresa Jesuit Retreat Center, Bloomfield Hills, MI (2010 - 2012)
Clinical Pastoral Education (CPE), Spiritual Care and Education Center, Toledo, OH (2010)
Clinical Pastoral Education (CPE), Beaumont Hospital, Royal Oak, MI, (2009)
Spanish Language and Hispanic Cultures, Advanced Level, Cemanhuac, Cuernavaca, Mexico (July, 1993)
Spanish Language Studies, Forester Institute, San Jose, Costa Rica (July, 1994)
WORK EXPERIENCE
2011 – present: Spiritual Director
2010 – present: Director of Retreats and Workshops
1999-2008: French, American History, and Religion Teacher. Our Lady of the Lakes High School, Waterford, Michigan
1993-1996: French Professor. St. Mary's College, Orchard Lake, Michigan
1986-1997: French and Spanish Teacher. St. Mary's Preparatory High School, Orchard Lake, Michigan
1979-1981: Director of Religious Education, St. Monica Parish, Detroit, Michigan
RETREATS AND WORKSHOPS DIRECTED

.